d83ec1a027

* <fixed privacy policy workflow>

* <fixed privacy policy workflow>

* <changed rspec tests to handle new privacy flow>

* <changed rspec tests to handle new privacy flow>

* <deleted previous term validation due to changed workflow>

* <fixed code style>

* <reverted configuration settings>

* <Updated terms and conditions for existing users (not omniauth)>

* <Fix code style>

* <Fixed privacy policy for omniauth>

* <Fixed Travis C.I test>

* <Minor code changes>

* <Undo routes.rb change>

* <reconfigured routes.rb>

2018-09-14 14:33:58 -04:00
app
2018-09-14 14:33:58 -04:00
bin
2018-07-30 15:42:45 -04:00
config
2018-09-14 14:33:58 -04:00
db
2018-08-01 09:45:12 -04:00
lib
2018-06-26 10:29:46 -04:00
log
2018-05-07 16:06:01 -04:00
public
2018-06-14 16:39:03 -04:00
spec
2018-09-14 14:33:58 -04:00
tmp
2018-05-07 16:06:01 -04:00

vendor

/assets
2018-05-07 16:06:01 -04:00
.dockerignore
2018-08-20 17:23:07 -04:00
.gitignore
2018-09-12 16:06:49 -04:00
.rspec
2018-06-15 14:41:07 -04:00
.rubocop.yml
2018-07-09 16:59:20 -04:00
.ruby-version
2018-07-04 09:56:50 -04:00
.travis.yml
2018-08-24 14:24:27 -04:00
Dockerfile
2018-07-10 13:54:45 -04:00
Gemfile
2018-09-12 16:06:49 -04:00
Gemfile.lock
2018-09-12 16:06:49 -04:00
Jenkinsfile
2018-09-11 12:20:22 -04:00
LICENSE
2018-08-01 09:49:05 -04:00
README.md
2018-09-12 16:06:49 -04:00
Rakefile
2018-06-26 10:29:46 -04:00
config.ru
2018-06-26 10:29:46 -04:00
docker-compose.yml
2018-07-06 11:42:50 -04:00
greenlight.nginx
2018-07-05 17:25:59 -04:00
sample.env
2018-07-24 11:01:04 -04:00
README.md
Greenlight
Greenlight is currently on version 2.0. If you are still running Greenlight 1.0 we suggest upgrading to 2.0.
Greenlight is a simple front-end interface for your BigBlueButton server. At it's heart, Greenlight provides a minimalistic web-based application that allows users to:
Signup/Login with Twitter, Google, or through the application itself.
Manage your account settings and user preferences.
Create and manage your own personal rooms (BigBlueButton sessions).
Invite others to your room using a simple URL.
View recordings and share them with others.
Interested? Try Greenlight out on our demo server!
Greenlight is also completely configurable. This means you can turn on/off features to make Greenlight fit your specific use case. For more information on Greenlight and its features, see our documentation.
For a overview of how Greenlight works, checkout our Introduction to Greenlight Video: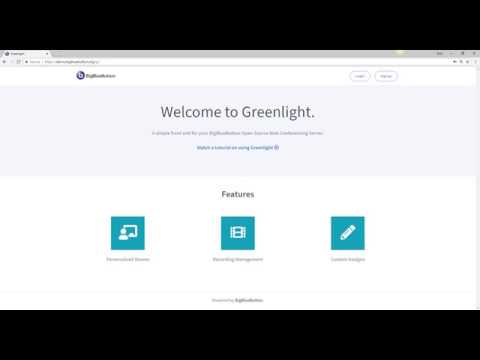 Installation on a BigBlueButton Server
Greenlight is designed to work on a BigBlueButton 2.0 (or later) server.
For information on installing Greenlight, checkout our Installing Greenlight on a BigBlueButton Server documentation.
Source Code & Contributing
Greenlight is built using Ruby on Rails. Many developers already know Rails well, and we wanted to create both a full front-end to BigBlueButton but also a reference implementation of how to fully leverage the BigBlueButton API.
We invite you to build upon GreenLight and help make it better. See Contributing to BigBlueButton.
We invite your feedback, questions, and suggests about GreenLight too. Please post them to the developer mailing list.